Keeping your nails looking fresh and stylish can sometimes feel like a struggle.
But did you know that a whopping 92% of women consider nail care an essential part of their beauty routine?
In this piece, we'll explore the exciting world of nails cosmetics, offering insider tips on everything from design ideas to polish selection and effective care practices.
Let's dive right into it!
Key Takeaways
Explore new nail ideas for unique and trendy designs, including natural nails, press-on or acrylic nails.
Choose from a variety of popular nail designs such as floral, minimalist, marble, glittery, and more.
Discover different nail shapes to enhance your overall style and maintain healthy nails.
Try simple nail designs for a minimalistic and understated look that can be worn in any setting.
Nails Ideas
Exploring new nail ideas can add a splash of creativity to your day-to-day style.
From natural nails to press on or acrylic nails, the possibilities for unique and trendy designs are endless.
You can experiment with various shades of lacquer or try out different nail art patterns to elevate your look.
Seasonal trends also offer an exciting twist, with pastel colors for spring or glittery finishes for the upcoming holidays.
Getting inspiration from celebrity manicurists, beauty blogs, and social media platforms such as Instagram and Pinterest can be a great start in your quest for fresh nail ideas.
With simple DIY tutorials available online, even beginners can join in on the fun of creating stunning nail designs at home!
If you're unsure about how to achieve a certain look or if it's your first time venturing into more complex styles like gel manicures or sculpted acrylics, booking an appointment at a reliable local nail salon is always a smart choice.
14 Best Nail Shapes
Discover the world of nail shapes to take your manicure game to the next level.
With the help of professional nail technicians, you can transform your natural nails into a work of art.
Here are different nail shapes for you to consider:
Round
A classic choice that complements short natural nails or brittle nails.
Square
Perfect for adding a touch of elegance and are very popular in any nail salon.
Rounded Square
This shape combines aspects of round and square-shape for a versatile look.
Oval
Suitable for those seeking to create an illusion of length on their fingers.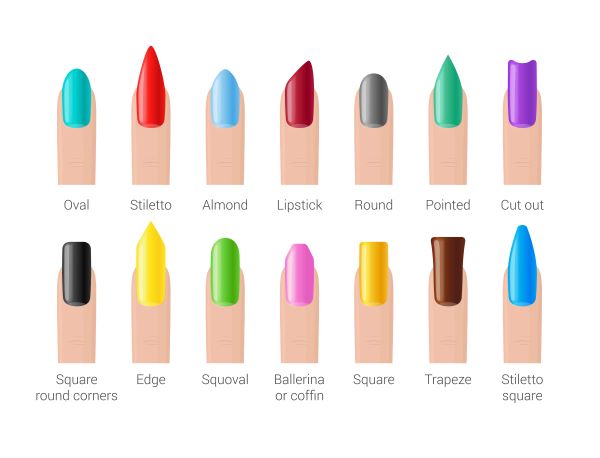 Squoval
Combines oval with square, making it ideal for all types of nail beds.
Coffin or Ballerina
Requires long nails and looks great both in gel or acrylic nails.
Almond
An elegant shape that tapers towards the tip, looks excellent with matte shades or glitter finish.
Stiletto
Dramatic and pointed, often but not always achieved with fake nails, like acrylics or gels.
15 Stunning Nail Designs & Nail Art
Stepping into the world of nail designs can open up a treasure trove of creative possibilities, especially when you are trying to match your overall makeup look and its other elements, like your long lashes.
Below is a list of some popular nail designs to consider:
Floral
Nothing screams springtime like floral nail art.
Minimalist
These simple yet sophisticated designs are perfect for both casual and formal occasions.
Marble
This unique design gives the impression of having actual marble on your nails.
Glittery
Add some sparkle to your look with glittery nail designs.
Chrome
This metallic finish gives off a futuristic feel.
Ombre
A smooth transition from one color shade to another can be very pleasing to the eye.
French Manicure
This classic design never goes out of style and suits any occasion.
Dotting Nail Art
Small dots arranged in patterns can create an impressive design.
Geometric Patterns
These are perfect for those who love bold, graphic designs.
Animal Print
Show off your wild side with this trendy pattern.
1. Simple
Simple designs are perfect for those who prefer a minimalistic and understated look.
These designs often feature clean lines, solid colors, or subtle accents.
You can opt for a single shade on all your nails or try a basic pattern like stripes or dots.
Simple is versatile and can be worn in any setting, whether it's a casual outing or a formal event.
They require less maintenance and are great for beginners who may not have much experience with nail art.
With simple designs, you can achieve an elegant and polished look effortlessly.
Keep in mind that when selecting the colors for your simple design, neutral shades like nude, beige, white, or light pink work well as they complement any outfit.
Also, remember that maintaining healthy nails is essential to make your simple manicure stand out.
Regularly moisturize your cuticles with cuticle oil and apply a strengthening base coat before applying polish to protect your natural nails from potential damage.
By keeping things simple with your nail designs while focusing on proper care, you'll have beautiful and chic hands that enhance your overall style effortlessly.
2. Plain
Plain nails are a classic and timeless choice that can complement any outfit or occasion.
They provide a clean and polished look without any intricate designs or patterns.
Opting for plain allows you to focus on the beauty of your natural nails and their shape.
It's a versatile option that goes well with both casual and formal settings, making it suitable for everyday wear as well as special events.
Choosing plain also gives you the opportunity to experiment with different nail colors.
Whether you prefer bold and vibrant shades or subtle nude tones, there is a wide range of nail polishes available to suit your preferences.
You can easily switch up your look by trying different colors that match your mood or the season.
Maintaining plain nails is relatively easy compared to other nail styles.
With proper nail care, including regular filing, moisturizing cuticles, and applying a top coat for added protection, you can keep your plain nails looking neat and professional.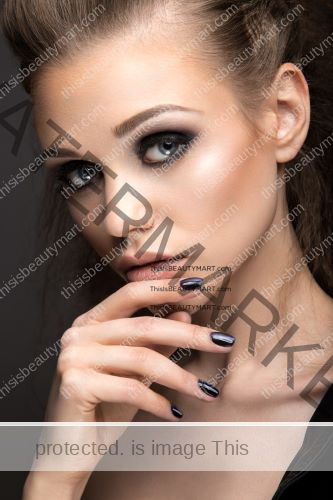 Remember to always use nail products safely.
Additionally, if you find yourself in need of quick touch-ups or color changes, having plain designs makes it convenient to do so at home without requiring professional assistance.
By choosing plain, you embrace simplicity while still making a statement with understated elegance.
So whether you're heading out for an important meeting or enjoying a casual day out with friends, opt for this versatile style that will always have you looking effortlessly chic.
Plain offers simplicity and versatility that works well in all settings – from casual outings to formal occasions – allowing individuals to focus on the natural beauty of their own fingernails rather than intricate designs or excessive adornments like glittery finishes.
3. Short
Short can be just as fashionable and versatile as longer ones.
Whether you prefer a subtle and elegant look or something bold and eye-catching, there's a design for every taste.
Don't let the length of your nails limit your creativity – with the right polish colors and artistic techniques, you can achieve beautiful manicures that will turn heads.
So go ahead and experiment with different patterns, textures, and finishes to find the perfect short nail design that reflects your personal style.
Keep in mind that easy nail designs for short nails without tools are also featured here, making it even more convenient for those who want quick yet fabulous options.
With these inspiring ideas at your fingertips (pun intended), there's no reason why short nails can't make a major fashion statement!
4. Long
Long nails are a popular choice for those who want to make a statement with their manicure.
With the right care, these can look stunning and elegant. However, maintaining them does require some extra effort.
You need to be mindful of potential damage and take steps to keep them healthy.
Regular filing is important to prevent breakage, and you should apply a protective top coat to help strengthen them.
Additionally, proper nutrition and hydration play a crucial role in promoting overall nail health.
By following these tips, you can rock beautiful long nails that will turn heads wherever you go.
With proper care, they can add sophistication and glamour to your overall look.
Don't hesitate to experiment with different nail polish shades or elaborate nail art designs on them – they provide the perfect canvas for creativity!
Just remember that regular maintenance is key – trim any split or chipped ends as soon as possible, moisturize your cuticles daily with cuticle oil, and avoid using them as tools to prevent accidental breakage.
5. French Tips ( with how-to )
French manicures are a classic nail design that never goes out of style.
They are elegant, timeless, and perfect for any occasion.
In this section, we will guide you on how to achieve the perfect French tips at home.
Proper nail care is essential for achieving and maintaining healthy nails.
With French manicures, it's important to keep your nails clean and well-maintained.
Whether you prefer a traditional white tip or want to add some modern twists with nail art designs, we've got you covered.
Our step-by-step instructions will help you create salon-quality results without the need for a professional manicurist.
1. Regularly trim and shape your nails to your desired length, then gently push back your cuticles using a cuticle pusher or orange stick.
2. Apply a clear base coat before carefully painting the white tip using either a striping brush or French tip guides.
3. Once dry, finish off with a sheer pink polish for an understated yet polished look.
French manicures offer versatility and endless possibilities when it comes to customization.
You can experiment with different colors for the tips or even incorporate nail art designs like floral patterns or geometric shapes – just let your creativity shine!
Remember to seal in your creation with a top coat for long-lasting wear that will make heads turn wherever you go.
So why wait? Get ready to elevate your nail game with stunning French tips that showcase both sophistication and style!
Follow our expert advice and unleash your inner nail artist today!
6. Coffin
Coffin nails are currently a hot trend in the world of nail cosmetics.
These sleek and stylish designs get their name from their shape, which resembles a coffin.
One interesting fact about them is that they can be achieved with or without acrylic tips.
Whether you prefer them long or short, they come in various lengths to suit your personal style.
You can also experiment with different designs on them, from simple and plain to bold and glittery.
The best part? They are universally flattering and cool, making them a must-try for any nail enthusiast looking to stay on-trend.
7. Glitter
Glitter nail designs are a popular choice for adding some sparkle and glamour to your nails.
Whether you prefer a subtle shimmer or an all-out glittery statement, there are endless ways to incorporate glitter into your manicure.
Many top nail artists and polish brands love creating glitter ombré, where the glitter fades from one color to another for a stunning effect.
Applying loose glitter on gel nails is another option, with various techniques available to achieve different looks.
The great news is that glitter is still in style, so you can confidently rock this trend and add some extra glam to your overall look.
Remember that sparkly glitter nail designs can instantly elevate any outfit or special occasion look.
So go ahead and embrace the glitz and glam with dazzling glitter!
8. Summer
Vivid orange shades like peach, papaya, and tangerine are all the rage for summer.
When it comes to your nail design this season, embrace the vibrant energy of summer with these trendy colors.
Whether you prefer a classic solid shade or want to experiment with fun designs, there's a summer nail look for everyone.
This section provides manicure ideas that perfectly capture those summertime vibes.
From beach-inspired palm trees to colorful tropical flowers, these designs will make your fingers stand out in the sun.
Looking for more inspiration? Use summer nail colors and designs featuring popular trends like daisies, neon polish, and chrome accents.
Get ready to elevate your nail game with suggestions from celebrity manicurists who swear by specific shades from renowned brands like OPI and Essie.
These professionals know how to create stunning looks that will turn heads wherever you go.
To take it even further, you can play with ultra-cool summer nail designs inspired by celebrities like Hailey Bieber.
With their expert advice and creativity as inspiration, you can try out unique patterns and styles that reflect your own personal style while staying on-trend this season.
Embrace the spirit of summer with bold choices and show off your fashionable side through your fabulous nail designs.
9. Cute
Cute nail designs are perfect for adding a touch of fun and whimsy to your look.
From adorable baby animals to charming floral patterns, there are endless options to choose from.
If you're looking to add some cuteness to your summer manicure, consider trying out bold and creative designs that feature bright colors and playful elements.
Cute designs can be a great way to express your personality and show off your style.
In addition, according to editors and manicurists, Essie Licorice black nail polish is included in the list of top colors for this year.
Adding this color to any cute nail design can create a striking contrast and make it stand out even more.
So go ahead, and embrace the cuteness factor with these delightful nail designs that will bring a smile to your face every time you look at them.
10. Almond
Almond-shaped nail designs are a popular choice among beauty enthusiasts.
They can be both long and short, giving you the flexibility to create your desired look.
Professional nail technicians recommend various almond nail designs that will make your hands stand out.
Don't worry if you prefer 'em short – they can be just as chic and trendy as their longer counterparts.
In fact, there are many fun nail ideas specifically tailored for almond-shaped designs.
So whether you want a minimalist look or something more elaborate, almond shapes offer versatility that can be paired with any trendy design.
Get creative and show off your unique style with these fabulous nail shapes!
11. Square
Square nail shapes are a classic and versatile look that suits both long and short nail lengths.
In this section, we bring you ideas for square nail designs to inspire your next manicure.
Whether you prefer bold patterns or minimalist style, there's something for everyone.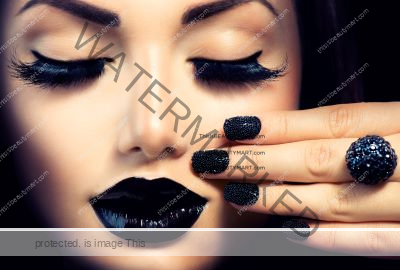 Square nail designs are known for their chic and modern look.
They provide a clean canvas for various designs, such as geometric patterns, floral motifs, or even intricate nail art.
With their straight sides and sharp corners, they offer a sophisticated appearance that can elevate any outfit or occasion.
So whether you're headed to a special event or just want to add some flair to your everyday look, give them a try and see how they take your manicure game to the next level.
Remember: the key is finding a design that reflects your personal style while complementing the shape of your fingers.
Square nail designs can accentuate slender fingers and make them appear longer while providing stability for those with wider nail beds.
Experiment with different colors and textures to create unique looks that showcase your individuality.
12. Wedding
For brides-to-be, the wedding day is a momentous occasion that calls for attention to every detail.
Start your nail care routine at least two months before the wedding to ensure healthy and beautiful nails.
One important step is using cuticle oil regularly to keep your nails moisturized and promote growth.
On the day before your wedding, schedule a manicure session with a professional nail technician for flawless results.
Consider opting for French tips, which are elegant and classic, making them perfect for brides who want a simple yet sophisticated look on their big day.
13. Matte
Matte is all about that smooth, non-shiny finish.
Unlike glossy nail polishes, matte varnishes have a more subtle and understated look.
One of the great things about matte designs is that they can cover up any imperfections on your nails, giving them a flawless appearance.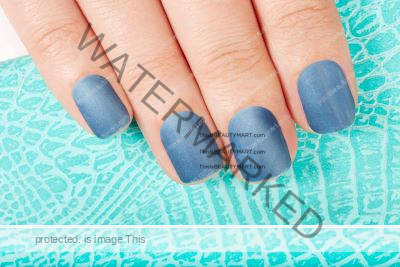 Whether you prefer them short or long, in square or almond shapes, matte polish can be paired with any color and style to create a trendy and chic look.
From simple one-color designs to intricate nail art patterns, there are endless possibilities with matte nail polish.
So if you're looking for a unique and stylish twist for your next manicure, give matte finishes a try!
14. Ombré
Ombré is a trendy and stylish nail design that involves creating a gradient effect using two or more colors.
With many stunning ombre nail ideas for you to try out, the possibilities are endless!
Whether you prefer a subtle fade or a bold color combination, ombre designs can be customized to match your personal style.
From glittery ombré designs to elegant French tips ombré, there is something for everyone.
Want to achieve the perfect ombre at home?
It's easier than you think!
All you need is a beauty sponge and your favorite nail polish shades.
Simply paint each color onto the sponge in horizontal stripes.
Then, dab it onto your nails repeatedly until you achieve the desired effect.
The beauty sponge helps blend the colors together seamlessly for a professional-looking finish.
The great thing about ombre designs is their versatility.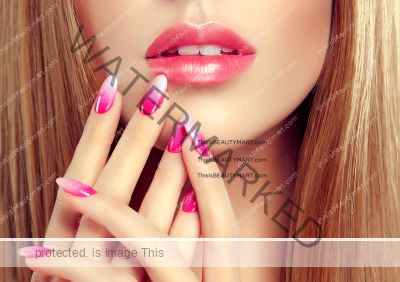 They can be dressed up or down depending on the occasion. For brides-to-be, there are gorgeous ombre wedding nail ideas that will make your special day even more memorable.
The gradient fades and color combinations add an extra touch of elegance to any bridal look.
So go ahead and embrace this popular trend – with ombre designs, you'll always make a statement wherever you go!
15. Pastel
Pastel has become a beloved trend in the world of nail art.
Whether you prefer a soft and delicate look or want to make a bold statement, pastel colors offer endless possibilities for your manicure.
You can experiment with pastel nail art ideas that range from simple mono-toned designs to groovy patterns.
You'll find inspiration for creamy lilac hues, metallic swirls, lavender smiles, sage green shades, pastel checkers, and even minty French tips.
Step up your nail game with these pretty pastel colors and designs that are sure to turn heads.
And if you're someone who likes experimenting with different nail art and desires to wear them longer, acrylic is definitely worth considering.
Acrylic Nails
Acrylic is an artificial nail enhancement made by combining a liquid monomer with a powder polymer to create a soft paste.
This mixture is then applied to the natural nail and shaped as desired.
They can last for a considerable amount of time if properly cared for, making them a popular choice among those looking for long-lasting and durable manicures.
However, it's important to note that acrylic nail designs require regular maintenance and fill-ins to keep them looking their best.
With proper preparation and research, you can achieve beautiful acrylic nail ideas that will enhance your overall look.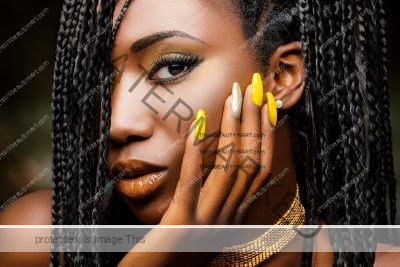 Gel Nails
Gels are a popular choice for those looking to add strength and durability to their nails.
A gel manicure involves applying a gel-based polish that is cured with either UV or LED light.
This process results in a long-lasting and chip-resistant finish that can last up to two weeks or more.
They are also great for adding length and shape to your natural nails, as they can be used for overlays and extensions.
One of the best things about gel polish is its versatility – you can choose from a wide range of designs and colors to suit your personal style.
Unlike acrylic counterparts, they are considered to be less damaging to your natural nail bed.
They adhere well without causing potential damage or harm.
Additionally, because of the curing process under UV or LED light, there is no need for prolonged drying time like traditional nail polishes.
This means less waiting around at the salon, allowing you to get back to your daily routine quickly.
Overall, if you're looking for a manicure that offers durability, longevity, and endless customization options, then consider trying out gel options.
Whether you prefer simple and elegant designs or bold and vibrant colors, gel polish can take your nail game to the next level while keeping them healthy and strong.
Acrylic Nails vs Gel
When it comes to nail enhancements, the choice between acrylic and gel nails can be a bit of a conundrum.
Both options offer their own unique benefits and drawbacks.
Understanding these differences can help you make an informed decision that best suits your nail health and aesthetic preferences.
| | Acrylic Nails | Gel Nails |
| --- | --- | --- |
| Application Process | The application process involves painting and curing under a UV lamp | Application process involves painting and curing under a UV lamp |
| Appearance | Typically denser in appearance but offers a sturdy finish | Provides a more glossy and natural look |
| Durability | More durable and denser due to the polymerization process and ease of removal | Though less durable than acrylic, they can be layered on top of acrylic nails or used on its own on natural nails without extensions |
| Health Impact | While sturdy, they may be less healthy for natural nails | Generally considered a healthier alternative for nails |
| Consumer Preference | Preferred by those who require a sturdier, and more durable nail enhancement | Generally preferred by those valuing a more natural and glossy look |
There's no definitive answer as to which is better – acrylic or gel.
Ultimately, the choice comes down to your personal preference, the look you want to achieve, and the specific needs of the look you're going for.
Pink Nail Designs
Pink Nail Designs are a trendy and stylish way to express yourself.
Choose from a variety of pink shades and designs to match your personality.
Whether you prefer soft pastels or bold neon pinks, there's a good choice for everyone.
Show off your unique style with these fashionable nail ideas:
Create a gradient effect by blending light and dark pink shades on each nail.
Add delicate flowers in different shades of pink for an elegant and feminine look.
Make your nails sparkle with glittery pink polish or add glitter accents for extra shine.
Create fun patterns using stripes or polka dots in various shades of pink.
Get a sophisticated look by marbling different shades of pink together on your nails.
Nail Colors | 25 Trendy Shades
Nail colors are an essential part of any manicure.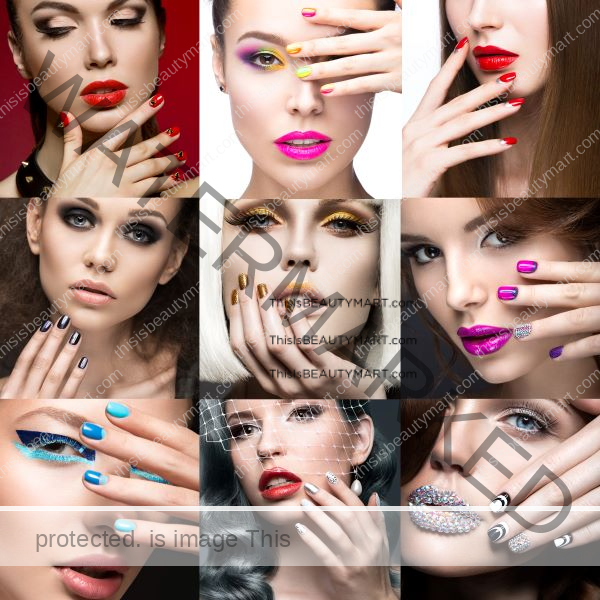 They can make a statement, show off your personality, or simply enhance your overall look.
If you're looking for some inspiration for your next nail color, here are 25 trendy shades to consider:
3. Baby Pink – Soft and feminine, this shade is always in fashion.
4. Coral – A vibrant and fun option for the warmer seasons.
5. Mint Green – Fresh and cool, this shade is perfect for spring.
6. Mauve – A versatile color that complements any skin tone.
7. Burgundy – Rich and luxurious, this color adds drama to your nails.
8. Cobalt Blue – Make a statement with this bold and eye-catching shade.
9. Gold Glitter – Add some sparkle to your nails for a glamorous touch.
10. Silver Metallic – Sleek and modern, this shade adds a futuristic vibe to your nails.
11. Lilac – Soft and dreamy, this color is perfect for a romantic look.
12. Neon Yellow – Stand out from the crowd with this bright and energetic shade.
13. Deep Purple – Dark and mysterious, this color exudes confidence.
14. Blush Pink – Subtle and elegant, this shade is perfect for any occasion.
15. Navy Blue – Sophisticated and chic, navy blue is a great alternative to black.
16. Pastel Purple – Soft and delicate, this color is perfect for springtime nails.
17. Burnt Orange – Warm and autumnal, this shade adds a cozy vibe to your nails.
18. Hot Pink – Fun and playful, this color is sure to get noticed.
19. Serene Green – Delicate yet refreshing.
20. Rose Quartz – Gentle pink with a touch of shine.
21. Crimson Red – Bold and passionate.
22. Electric Blue – Vibrant and eye-catching.
23. Sunshine Yellow – Bright and cheerful.
24. Pastel Peach – Soft and feminine.
25. Smoky Gray – Edgy and sophisticated.
Nail Polish
Nail polish is a must-have beauty product for anyone who loves to express themselves through their nails.
With thousands of colors, brands, types, and finishes available, the options are endless when it comes to finding the perfect shade.
Whether you prefer bold and vibrant hues or soft pastels, there's a nail polish out there that will suit your style.
Did you know that nail polish has been around for centuries?
It originated in China around 3000 BC and was made using natural ingredients like beeswax, egg whites, gelatin, and vegetable dyes.
Thankfully, today's formulas have come a long way.
Not only do they offer an array of stunning colors, but they also provide long-lasting wear and chip-resistant finishes.
So whether you're getting ready for a special occasion or just want to add a pop of color to your everyday look, nail polish is an essential tool in your beauty arsenal.
Nail Color vs Nail Polish: The Difference
There is a difference between nail color and nail polish.
Nail color refers to the actual shade or hue applied to the nails, while nail polish is the liquid or gel substance used to apply the color.
Choosing the right nail color can enhance your overall appearance and boost your self-confidence.
Nail Dip
Dip powder nails are a popular choice for those looking for long-lasting and durable nail enhancements.
With dip powder, you can achieve salon-quality results in the comfort of your own home.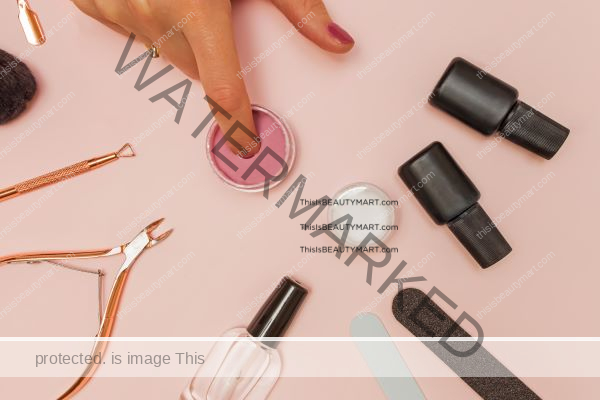 The Process
The process involves dipping your nail into a colored powder and sealing it with a top coat.
This creates a strong and chip-resistant manicure that can last up to two to three weeks before needing any maintenance or removal.
Durability
The specially formulated powders create strong and sturdy layers, providing extra protection against chips and breaks.
Whether you're a beginner or an experienced DIYer, dip powder nails are a convenient option that allows you to have beautiful, professional looks without the hassle of frequent touch-ups.
Wide Selection
Additionally, they offer a wide range of colors and finishes to choose from, allowing you to express your personal style and creativity.
Ease
In addition to their long-lasting effects, dip powders are also known for being relatively easy to apply at home.
All you need is the dip powder kit, which includes the necessary products such as base coat, activator liquid, colored powders, and top coat.
Simply follow the step-by-step instructions provided with the kit, and you'll be able to achieve stunning results without having to visit a salon.
They are not only cost-effective but also provide flexibility in terms of color options and application techniques.
Nail Glue
Nail glue is an essential product for achieving long-lasting and salon-quality nails.
It is commonly used in conjunction with artificial options, such as fake nails or acrylics.
Some popular nail glues mentioned in the article include KISS PowerFlex Max Speed Glue and Mia Secret Nail Glue, both highly rated by users.
Another popular brand is KDS Nail Glue, known for its durability, moisture resistance, and fast-drying formula.
When using nail glue, it's important to be cautious about exposing your treated nails to water and baths as this can weaken the bond.
By incorporating nail glue into your beauty routine, you can take your manicures to the next level and enjoy beautiful nail designs that last longer.
Nail Kit Items
The nail kit is an essential tool for anyone who loves doing their nail designs at home or wants to have a professional-looking manicure.
This kit includes all the necessary tools and accessories you need to achieve beautiful results.
It typically contains items such as:
nail clippers
cuticle pushers
nail files
buffers
a variety of nail polishes in different shades
nail polish remover
With a nail kit, you can experiment with various nail designs and styles right from the comfort of your own home.
Whether you're a beginner or an experienced nail enthusiast, having a nail kit will elevate your DIY manicures to the next level.
Taking care of your nails has never been easier with the convenience of this tool kit.
It provides everything you need in one place, saving you time and money on separate purchases.
Plus, it allows you to express your creativity by trying out new designs without spending extra on salon visits or expensive products.
So why wait? Invest in a good quality nail kit today and enjoy stunning nails that are sure to turn heads wherever you go!
Nail Polish Remover
Nail polish remover is a product that helps you easily remove nail polish, treatments, or hardeners from your nails.
It contains a common chemical called acetone, which breaks down the polish and makes it easier to wipe away.
However, some people may have allergies to acetone-free nail polish removers, so it's important to be aware of any potential reactions.
It's also worth noting that nail polish remover should be used in a well-ventilated area.
Nail polish removers should also be kept away from children as ingesting or inhaling large quantities can be harmful.
Some removers even contain moisturizing ingredients to prevent drying out your nails and cuticles while removing the polish.
Nail Strengthener Brands
If you're looking to strengthen your nails and prevent breakage, here are several options available.
1. Essie Hard to Resist Nail Strengthener
This is a popular choice that comes in both Violet Tint and Pink Tint variations.
2. OPI Nail Envy Original
This nail strengthener has gained a lot of popularity among beauty enthusiasts.
3. Nailtiques
If you're concerned about dryness and peeling, be cautious with this one.
While it may help strengthen your nails, it can also cause these unwanted side effects in some individuals.
4. Barielle Nails Daily Strengthening Nail Cream
This is another effective product for revitalizing brittle nails and preventing breakage, thanks to its biotin and Vitamin E content.
5. OPI Natural Nail Strengthener
Yet another trusted option for those seeking stronger nails.
Nail Care Essential Items
Taking care of your nails is essential for maintaining healthy and beautiful hands.
Here are the must-have nail care essentials that every beauty enthusiast should have:
1. Nail file – Smoothens rough edges and shapes.
2. Cuticle pusher – Gently pushes back the cuticles for a clean look.
3. Cuticle oil – Moisturizes and nourishes the cuticles to prevent dryness.
4. Nail brush – Removes dirt and debris from under the nail.
5. Nail buffer – Gives your a natural shine and smooth finish.
6. Hand cream – Hydrates and softens your hands, keeping them moisturized.
7. Base coat – Provides a protective layer between your nail and nail polish.
8. Top coat – Seals in the color, adds shine, and prolongs the life of your manicure.
9. Nail polish remover – Safely removes nail polish without damaging the nail.
10. Nail strengthener – Fortifies weak or brittle nails, promoting growth and resilience.
Nail Care Step-by-Step
Proper nail care is essential for maintaining their health and beauty.
Here are some simple steps you can follow to achieve the best results:
1. Keep your nails clean by washing them regularly with mild soap and warm water.
2. Trim them regularly to maintain a neat and well-groomed appearance.
3. Use a nail file to shape them according to your preference. Gently file in one direction to prevent splitting or damage.
4. Apply a base coat before applying nail polish to protect them from staining and help the color last longer.
5. Choose high-quality nail polish that is free of harmful chemicals, such as formaldehyde, toluene, and DBP.
6. Apply thin layers of nail polish, allowing each layer to dry completely before applying the next one.
7. Use a top coat to seal in the color and provide extra shine and protection.
8. Moisturize your cuticles daily with cuticle oil or cream to keep them soft and prevent dryness.
9. Avoid using your nails as tools for opening cans or scratching surfaces, as this can cause damage or breakage.
10. Take breaks from wearing artificial nails, such as acrylics or gels, to allow them time to breathe and regenerate.
Conclusion | Nails Cosmetics
In conclusion, this article has provided a comprehensive guide to nail cosmetics. Feel free to share this with other nail enthusiasts.
From the best nail ideas and designs to various shapes, colors, and care techniques, you now have the knowledge to achieve fabulous nails.
Whether you prefer simple or bold looks, gel or acrylic nails, this article has covered it all.
So go ahead and experiment with different styles and embrace your beautiful nails!
FAQs
Q: What is healthier for nails gel or dip?
A: Both gel and dip manicures have their own pros and cons when it comes to nail health. Gel manicures are considered safer because they don't require the use of harsh chemicals for application or removal. On the other hand, dip manicures tend to be more durable and provide better protection. Ultimately, proper nail care and maintenance are the keys to maintaining healthy nails regardless of the type of manicure.
Q: Which is better dip or gel?
A: It ultimately depends on personal preference and the desired outcome. Dip powder is known for its long-lasting durability and easy removal, while gel polish offers a glossy finish and has a faster drying time. Both options have their pros and cons, so it's important to consider your needs and preferences before making a decision.
Q: What is the healthiest nail option?
A: The healthiest nail option is to keep your natural nail short and clean. Regularly moisturize your cuticles and use a nail strengthener to prevent breakage. Avoid the use of artificial nail, as they can damage your natural nail and increase the risk of fungal infections. Opt for nail polishes that are free from harmful chemicals such as formaldehyde, toluene, and dibutyl phthalate.
Q: What is the newest trend in acrylic nails?
A: The newest trend in acrylic nail is the jelly nail. This style involves creating a translucent effect with the acrylic material, giving the nail a unique and whimsical appearance. Jelly nail can be created in various colors and designs, making them a versatile choice for those looking to make a statement with their manicure.
Q: What are the pros and cons of dip nails?
A: The pros of dips include a long-lasting and durable finish, less damage to the natural nail, and a quick and easy application process. However, the cons may include a higher risk of infection if proper hygiene is not followed, potential damage to the natural nail if not removed correctly, and the limited availability of colors and designs.
Q: What is the least damaging fake nail?
A: Gel nails tend to be the least damaging fake nail. They are applied in several layers and cured under a UV or LED lamp. Gel nails are more flexible and durable compared to acrylics, reducing the risk of breakage. Additionally, they are less likely to cause damage to the natural nails when removed properly.
Q: Are dipped nails healthier?
A: They are not necessarily healthier than other types of artificial nail. While the process of dipping involves a powder and liquid application that is said to be gentler on the nail bed, it still involves the use of chemicals and can cause damage if not properly maintained. Regularly removing and reapplying the dip can also weaken the natural nail.
Q: Is dip better for weak nails?
A: Dip powder nail can be better for weak and brittle nails compared to regular nail polish. The dip powder formula provides a protective layer that can help strengthen the natural nail underneath. It also lasts longer and is less prone to chipping, giving the nail a chance to grow and repair without constant damage. Regular nail polish, on the other hand, tends to be more drying and can cause further weakness and breakage.
Q: What type of manicure is healthiest for your nails?
A: The healthiest type of manicure is a regular manicure that focuses on nail care rather than just aesthetics. This includes trimming and shaping, cuticle care, and a nourishing moisturizer. Avoiding excessive filing, using harsh chemicals, and giving them time to breathe between manicures also helps maintain their health.
Q: What are the best nails that won't ruin them?
A: These are typically those made from natural materials such as silk, fiberglass, or gel. These options are gentler on your natural nail and don't require harsh chemicals for removal. Additionally, regularly moisturizing and nourishing your nail with cuticle oil can help prevent damage and promote healthy nail growth.
Q: What kind of nail are better for your nail?
A: It is generally recommended to use gel nail polish or acrylic nail sparingly to maintain the health of your natural nail. These types of nail can put extra pressure on the nail bed and cause damage if not properly maintained. Opting for regular nail polish or a strengthening treatment can be better for the overall health of your nails.
Q: What is the current nail trend this year?
A: The current nail trend this year is all about bold and vibrant colors. Neon shades, bright pastels, and bold metallics are popular choices. Nail art is also a big trend, with patterns, shapes, and intricate designs taking center stage. From geometric patterns to ombre effects, people are getting creative with their nails this year.
Q: What is the most popular acrylic nail shape for this year?
A: The most popular acrylic nail shape for this year is the coffin shape. It is characterized by a long, tapered shape with squared-off tips, resembling a coffin. This shape is trendy because it is versatile and suits a wide range of nail lengths and sizes, making it a go-to choice for many nail enthusiasts.
Q: Should nails be white or clear?
A: Nail color preference is subjective and varies from person to person. Some may prefer white as it gives a classic and clean look while others may opt for clear nails to create a natural and subtle appearance. Ultimately, the choice of color comes down to personal style and individual preference.
Q: Should nails bend? Should nails be bendy? Is that good or bad?
A: No, they should not bend because it compromises their strength and durability. A bending nail can lead to structural instability and potential damage to the construction. Therefore, it is generally considered bad for them to bend as it impacts their effectiveness and longevity.
Q: Did nails have lines in them?
A: Yes, they can have lines in them. These lines are known as Beau's lines and they are ridges or indentations that can appear on the surface of the nails. Beau's lines can be caused by various factors such as trauma, illness, or nutritional deficiencies. However, it is important to consult a healthcare professional for a proper diagnosis if you notice any abnormal lines.
Q: Will nails grow back?
A: Yes, they do grow back. They are composed of keratin and they grow from the nail matrix, which is located at the base of the nail. Even if a nail is damaged or completely removed, it will typically grow back within a few months, regenerating itself from the nail bed.
Q: How nails art are done?
A: Nail art is done through a variety of techniques. It typically involves painting intricate designs or patterns onto the nails using specialized brushes or tools. Some nail artists also use glitter, stickers, or other embellishments to enhance the design. Nail art can be done at home or through professional salons and is popular for adding a unique and creative touch to one's overall look.
Q: Why nails break? How to fix and prevent them?
A: They can break due to various factors such as excessive use of nail polish, dehydration, unhealthy diet, or trauma. To fix them, keep them trimmed and file them in one direction. Moisturize regularly and refrain from using harsh chemical products. To prevent breakage, maintain a balanced diet, use strengthening treatments, avoid excessive contact with water, and use gloves for household chores.
Q: What nails are in style?
A: Currently, a popular trend is a minimalist design. This includes a nude or pastel base with a simple accent, like a thin line or dot. Another trendy style is the ombré effect, where different shades of the same color are blended together. Matte is also stylish, giving a smooth and velvety finish. Ultimately, it's all about finding a style that suits your personal taste and personality.
Q: Does nails produce melanin?
A: No, they do not produce melanin. Melanin is produced by special cells called melanocytes in the skin, hair follicles, and other parts of the body. Nails are made of a protein called keratin, which gives them their hardness and strength.
Q: Should nails be see through?
A: No, they should not be see-through as they serve a protective function for our fingertips. Being opaque allows nails to safeguard our sensitive fingertips from potential harm and damage. Transparent nails would compromise this role and make our fingertips more vulnerable to injuries or infections. Furthermore, opaque nails also offer an aesthetic appeal that many people appreciate.
Q: Should nails be cut straight or curved?
A: There is some debate over whether they should be cut straight or curved. Cutting them straight can help prevent ingrown nails and make them less likely to break. However, cutting them with a slight curve can help them grow back stronger. Ultimately, it comes down to personal preference and what works best for each individual.
Q: Which nails last longer acrylic or gel?
A: The durability depends on various factors, including the individual's lifestyle and nail care routine. However, generally speaking, gels tend to last longer than acrylic. Gels are more flexible and resistant to chipping, making them a popular choice for those seeking a longer-lasting nail enhancement option.
Q: Are nails transparent? Should they be?
A: They are not transparent as they are made up of a protein called keratin. They have a translucent appearance, but not fully transparent. Transparency would lead to visibility of the nail bed, which might not be aesthetically pleasing. Their current translucent nature provides a good balance between visibility and maintaining a healthy appearance.
Q: Do nails have white spots? What does it mean when they turn white?
A: Yes, they can have white spots. These spots are known as leukonychia and are usually harmless. They can occur due to minor injuries or nutritional deficiencies. However, when they turn completely white, it can be a sign of a more serious condition, such as liver disease or anemia, and should be evaluated by a medical professional.
Q: How nails grow faster?
A: They tend to grow faster during the summer months due to increased blood circulation in the body. Additionally, factors like a balanced diet, regular exercise, and proper hydration contribute to faster nail growth. Certain vitamins and minerals, such as biotin and zinc, also promote healthy nail growth.
Q: What are some great job ideas for nail designs?
A: Ulta Beauty and other salons offer nail services that include spa pedicures, press-on, and custom designs. They welcome walk-ins too.
Q: How can I check the overall health of my nails?
A: Overall health is visible from your nail's appearance. The base of the nail should not have any bumps or ridges. Also, be sure to watch for signs of infection around the nail plate.
Q: Can vertical ridges on my nails indicate a health issue?
A: Yes, while some vertical ridges on the nail may represent natural aging, others might indicate underlying health concerns if coupled with color changes or bumps at the base of the nail.
Q: What are nails made of?
A: They are made essentially from keratin – a hard protein – which is also found in skin and hair.
Q: Are there any famous places in West Virginia ideal for best Nail cosmetic Artworks?
A: Indeed! Numerous beauty-savvy shops around West Virginia deliver impressive work under a professional director of photography highlighting creative and trendy things about nail art.